Route 24, Tullersville Road, is a secondary north-south route through Tullersville State Park.
Gettysburg
[
]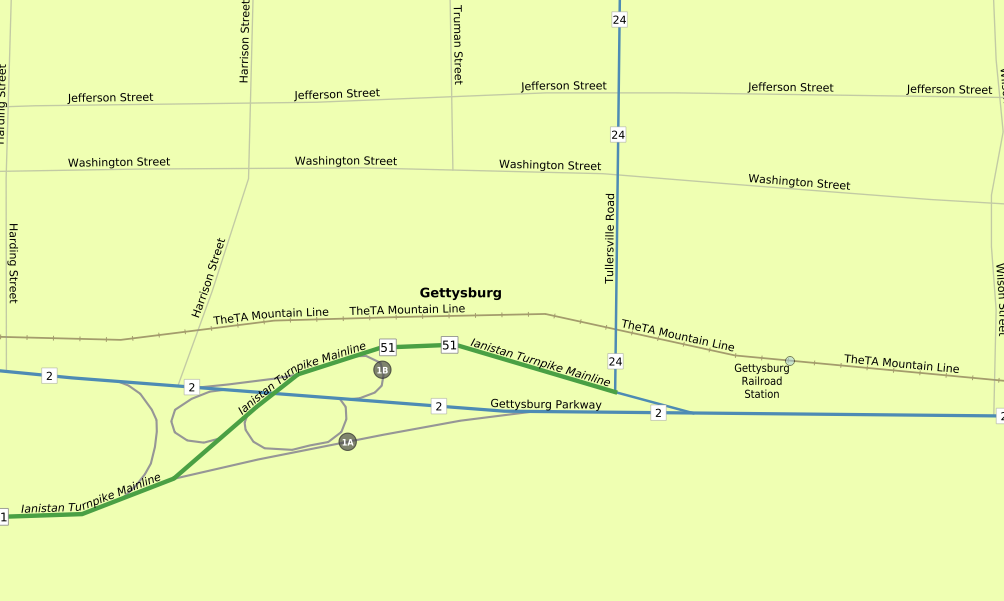 Route 24 starts at a convoluted modified cloverleaf interchange with the Gettysburg Parkway and the Ianistan Turnpike. It starts as a two-lane road with a center turn lane and a 35 MPH speed limit, serving Gettysburg Center, until meeting with Archambault Avenue Route 2A, next to the Gettysburg Municipal Building.
Tullersville Road then continues north, as a two-lane divided road with a 45 MPH speed limit, and enters Tullersville State Park, interchanging with Route 42 at Ianistan's only traditional full cloverleaf interchange. It intersects with Kennedy Street as it curves through Tullersville State Park, eventually crossing the Menelaus River, entering Quakersville.
Quakersville
[
]
After crossing the Menelaus River, Tullersville Road interchanges with the Menelaus River Parkway (Route 4), with the State Park only running to Route 24's west after this interchange. It gains its center turn lane back and loses its divided status, but continues along with a 45 MPH speed limit, making its way through Tullersville State Park until meeting Route 43 at a half-diamond interchange, with only Route 43 North having access to Route 24 and Route 24 only having access to Route 43 South. Route 91 also begins at this interchange, heading east towards York.
Once Route 24 has interchanged with Route 43, it is surrounded once again by Tullersville State Park and enters Leighton.
Leighton
[
]
After entering Leighton, Route 24 again becomes a divided highway, this time with four lanes and a 50 MPH speed limit, eventually terminating at Leighton Boulevard (Route 25), with Valler Road continuing along the direction of Route 24, into Huseby.
There have been discussions locally over whether to extend Route 24 into Huseby, but many of these discussions have not led to a productive result. Given Route 24's designation as a parkway, Huseby residents fear that new zoning restrictions will be put into place by an extension of Route 24.